Poker Stars
Poker Stars has become a successful poker room quickly, with anywhere from 5,000 to 20,000 players on the tables at any time. In a short period of time a lot of aspiring players have chosen to come here, enticed by clever tie-ins with large tournaments and celebrity endorsements.

Positive things about the Poker Stars site include; 6 and 10 seat tables available to players, tournament tables for 2,4,6,8, and 18 players, statistics that can be looked up during game play, and handy features such as chip transfers between players.

Because the crowd is largely comprised of tournament players there's always lots of action there, but you'll find that the competition is tighter than other rooms both there and on the cash tables. If you're in to win that can be a problem, but on the flip side it's a good room to improve your skills.

Table maximums at the high end are a little low (while this is not a problem for most of us; there are significantly higher table maximums available at other sites for high-limit players).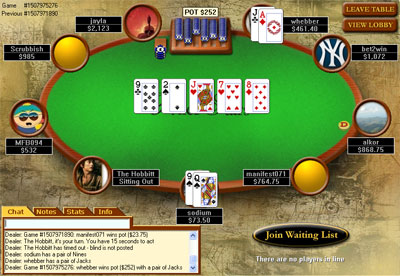 On the presentation side of things, graphics don't look all that great, animations could be more fluid, and sound effects could be improved as well. Some of you will enjoy the custom avatars used for each player that can be created using your own custom pictures, but asides from that it's not much to look at.

If that's not important to you, Poker Stars is a good room overall - just not a great choice for inexperienced players or those focusing on growing their bankroll instead or practising for the next WSOP.

Good diversity, tournament selections, customer service and competition.

Bonus(es) Offered:
Poker Stars offers a number of promotions for existing players in the form of frequent player rewards, but doesn't offer a sign-up bonus.

Games Offered:

Texas Hold'em
Omaha Hold'em
Omaha Hi/Lo
7 Card Stud
7 Card Stud Hi/Lo