HoldemPoker Review
HoldemPoker is another room on the OnGame network, and uses the same basic designs and game play modes as PokerRoom.com. If you're already an account holder at another room on the network, you won't find much incentive to move.

What HoldemPoker does have is a lot of Micro-limit tables. Because table limits can be as low as ten cents, it is a great place for a novice or new online player to begin playing. There's a lot of active players at the nickle-and-dime tables here.

Some of the nice features about this room include the ability to check other player's server connections, the amount raked in each hand, and other little details you'll miss at other poker rooms.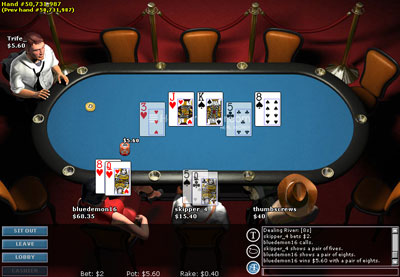 Want to start your own game and play with friends? No problem, with HoldemPoker's software you can create and customize tables with any poker game they offer; a great tool for those of us who want to play with friends that can't always make home games.

Despite some nice features, there are a few minor issues with the software. You can't sort tables well in the lobbies, and the interface in general could be more robust. Ring games are available in a wide assortment of flavors, but there is an absence of Stud games in the tournament department as well.

Bonus(es) Offered:
Get a 20% first deposit bonus (up to $100), plus a free tournament ticket.

Games Offered:

Texas Hold'em
Omaha Hold'em
Omaha Hi/Lo
7 Card Stud
7 Card Stud Hi/Lo
5 Card Draw